The moped-style electric bicycle has become a trendy phenomenon in the industry, leading to the introduction of moped-style models by many popular e-bike brands. Juiced Bikes, in particular, specializes predominantly in this distinctive design.
Moped eBikes have gained popularity due to their versatility, comfort, and powerful performance.
What Is a Moped Electric Bike?
Understanding Moped Electric Bikes. A moped-style electric bicycle is specifically designed to emulate the appearance of a traditional moped, featuring small-diameter wheels with wide tires, robust electronics, and a throttle. Like all e-bikes, a moped eBike must incorporate a pedal assistance system (PAS).
Additionally, this category of e-bikes typically includes suspension, commuter-oriented components such as racks, fenders, and lights, and the capacity to accommodate heavy loads, including an extra passenger.
While most electric moped bikes fall under the Class 3 eBike classification, with a maximum speed of 28mph.
If you are looking for the best moped style electric bike, then this article is for you.
There are plenty of moped style electric bikes in the market.
So today, we are going to discuss some of the best moped style bikes and, hopefully you will be able to choose a moped style e bike that will suit your needs.
Ride1UP Revv 1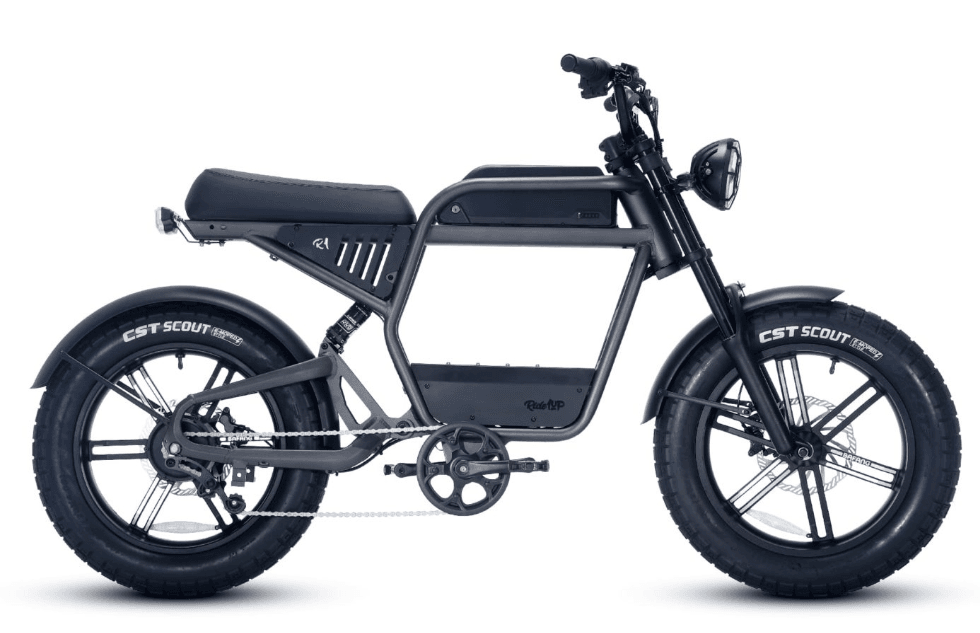 Step into the world of electrifying adventures with the Revv 1, an electric bike that redefines the riding experience. The Revv 1 is a true game-changer, delivering unparalleled performance and versatility that will leave riders in awe.
At the heart of the Revv 1 is a powerful 750w sustained geared hub motor, which generates an impressive 95nm torque. This motor propels the bike with lightning speed and effortlessly conquers even the steepest inclines. Whether you're navigating city streets or tackling challenging terrains, the Revv 1's motor ensures an exhilarating ride every time.
The Revv 1 excels in versatility, offering both throttle and pedal assist modes to suit different riding preferences. With speeds of 20+ MPH* attainable in both modes, riders have the freedom to choose their level of assistance. Need an extra boost of power? Engage the throttle mode for instant acceleration. Prefer a more hands-on approach? The pedal assist mode seamlessly amplifies your pedaling efforts, providing a natural and intuitive riding experience. Additionally, the Revv 1 offers various class modes and variable speeds, allowing riders to adapt to different riding conditions effortlessly.
Range is never a concern with the Revv 1. Powered by a robust 52V battery, this bike boasts an impressive range of 30-60 miles, depending on factors such as battery capacity, rider weight, terrain, and level of assist. Whether you're commuting to work or embarking on a weekend adventure, the Revv 1 ensures you can reach your destination without compromising performance.
Constructed with durability in mind, the Revv 1 features a rugged alloy frame that can withstand the challenges of the road. Its internal protected and locked electronics guarantee long-lasting reliability. The frame geometry and components are carefully designed to provide a comfortable upright riding position, ensuring that riders can enjoy long journeys without discomfort or strain.
Safety is a top priority with the Revv 1. Equipped with 4-piston hydraulic disc brakes and an electric cut-off sensor, riders can trust in the bike's responsive braking system. This level of control instills confidence, allowing riders to navigate any terrain with peace of mind.
Ride1Up has paid meticulous attention to detail with the Revv 1's features. The 3.5″ center mount display provides essential ride data at a glance, while the integrated sensitive cadence sensor ensures a smooth and seamless riding experience. The adjustable front and rear suspension systems, along with the high-traction tires, deliver exceptional handling and stability, enabling riders to confidently tackle rough terrain and conquer challenging trails.
The Revv 1 not only delivers exceptional performance but also boasts an eye-catching design. Its sleek aesthetic, complemented by the customized cafe-style saddle and Moto Style Round Headlight, exudes style and sophistication. The Revv 1 is a head-turner on the streets, guaranteeing attention wherever it goes.
Juiced HyperScorpion
The Closeout HyperScorpion, is a true masterpiece in micro-mobility! This fully-loaded electric bike is equipped with remarkable features that elevate your riding experience to new heights.
At the heart of the HyperScorpion is the impressive 1,000W RetroBlade motor, delivering exhilarating off-road speeds of up to 30mph. With this powerhouse motor, you'll feel the adrenaline rush as you conquer any terrain with ease.
The HyperScorpion is powered by our NEW G2 52V 19.2Ah battery, which is SGS Certified to UL 2271 safety standards. This high-capacity battery enables an astounding riding range of over 70 miles, allowing you to explore without limits.
Safety is paramount, and the HyperScorpion doesn't compromise. It comes equipped with premium safety features, including rearview mirrors, an integrated brake light, turn signals, hydraulic disc brakes, and an upgraded horn. With these features, you can ride with confidence, knowing that you're protected and visible on the road.
Experience the ultimate in comfort with the HyperScorpion's dual suspension system, providing a smooth ride even on rough terrains. The adjustable lockout feature allows you to customize the suspension to suit your riding preferences, ensuring maximum comfort throughout your journey.
The HyperScorpion's 20″x4.25″ puncture-resistant tires provide excellent traction and stability, enabling you to confidently navigate various surfaces. With the 8-speed cassette transmission, you have the flexibility to choose the perfect gear for optimal performance, whether you're tackling hills or cruising on flat terrain.
As an added bonus, the HyperScorpion comes with convenient extras such as a rack, fenders, mirrors, and a USB port. These features enhance the practicality and versatility of the bike, making it suitable for daily commuting, errands, and leisure rides.
Rad Power Bikes RadRunner Plus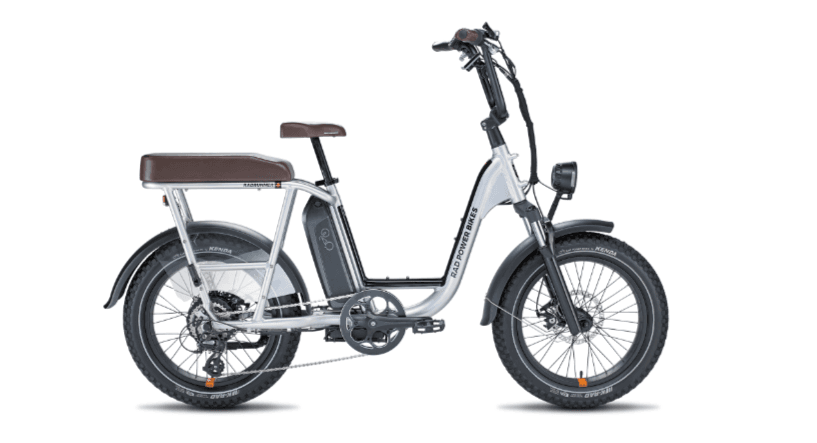 The RadRunner Plus, is the perfect electric moped bike designed to enhance your everyday adventures. This bike is packed with exclusive accessories and ready to take your errands and leisure rides to the next level. This is one of the best moped style ebikes in the market.
The RadRunner Plus comes equipped with a passenger package, allowing you to bring a friend along for the ride. Share the fun and make memories as you cruise together on this versatile bike. Additionally, the premium headlight provides enhanced visibility, giving you the confidence to hit the road day or night.
Powered by a 672Wh battery, the RadRunner Plus offers ample energy for your journeys. Recharging is a breeze with the included 48V, 2 Amp Rad Power Bikes smart charger, compatible with 100V-240V AC power outlets.
The 48V, 750W controller ensures smooth and responsive power delivery, while the backlit LCD display provides essential ride information. From monitoring your battery charge level to tracking your speed, distance, and pedal assist level, the display keeps you informed and in control.
The RadRunner Plus features a high-performance 750W brushless Rad Power Bikes geared hub motor, delivering an impressive 80Nm of torque. With its 5:1 planetary gear reduction, this motor provides reliable power for various riding conditions. The bike's lighting system includes an auto-on feature, with a front LED headlight and an integrated taillight that functions as a brake light and offers a flash mode for added safety.
Experience intelligent assistance with the 5-level pedal assist system, complemented by a low-profile cadence sensor. Enjoy a tailored and efficient ride as the motor seamlessly adjusts its power output based on your pedaling input.
With an estimated range of 25-45+ miles per charge, the RadRunner Plus ensures you can go the distance. The half-twist throttle provides instant power when you need it, offering an extra boost for hills or quick acceleration.
The RadRunner Plus is built to withstand various conditions, featuring water-resistant connectors and a robust wiring harness. The bike also includes a convenient USB port on the display, allowing you to charge your devices while on the go.
Safety is a priority with the RadRunner Plus. Equipped with Tektro Aries brake calipers, aluminum alloy comfort grip levers with a motor cutoff switch, and an integrated bell, you have full control and can stop with confidence. The metallic brake pad material and Tektro 180mm front and rear brake rotors ensure reliable and efficient braking performance.
The bike's drivetrain features a reliable KMC Z7 chain, a 48T forged alloy crankset with dual-sided aluminum bashguard, and a 7-speed Shimano Acera derailleur. The RadRunner Plus comes with included full-coverage fenders to keep you protected from splashes and road debris.
The 6061 aluminum frame offers durability and stability, while the RST spring fork with 80mm travel, lockout, and preload adjustment provides a smooth and comfortable ride. The 7-speed freewheel with an 11-34T gear range allows you to tackle different terrains with ease.
Co-op Cycles Generation e1.1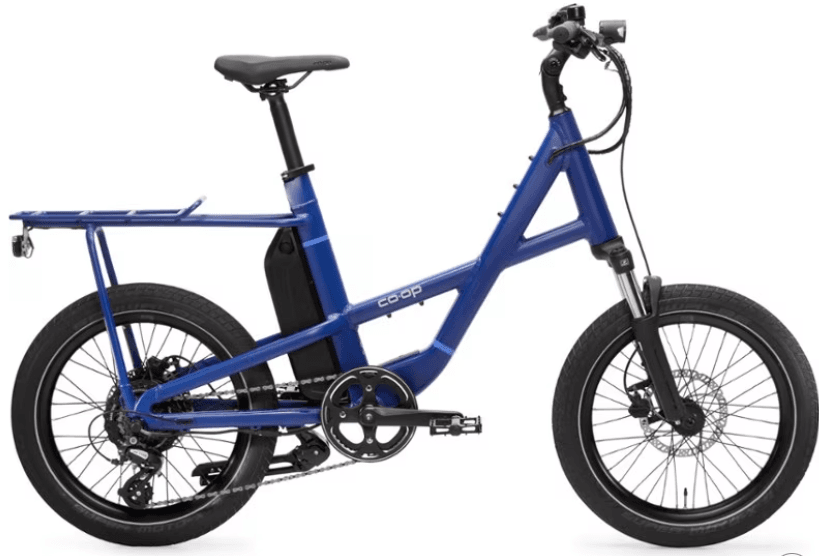 The Co-op Cycles Generation e1.1, is a bike that offers a range of features designed to enhance your riding experience. With an array of color choices, this bike allows you to express your unique style.
The low stand-over height design ensures easy mounting and dismounting, as well as providing stability while standing at a stop. The upright riding position offers excellent visibility, and the adjustable stem allows you to customize the cockpit to fit your preferences.
The one-size adjustable frame makes sharing the bike with friends and family a breeze. Simply adjust the seat height to accommodate different riders.
Equipped with a Bafang 350W hub-drive motor, the Generation e1.1 delivers a smooth and enjoyable ride. The motor offers five pedal-assist modes, allowing you to choose the level of assistance that suits your needs. Additionally, a walk mode is available for added convenience.
The Bafang 36V/11.6AH battery powers the bike and running lights. The battery is equipped with a lock, providing peace of mind when parking in town. It can also be easily removed for charging at work or home. The front and rear lights are powered by the battery, eliminating the need to worry about charging them separately.
The bike features 20 x 2.4-inch tires with extra-resilient Double Defense construction, providing a confident and smooth ride over urban terrain. The heavy-gauge spokes ensure durability, and the tires have reflective sidewalls and flat protection for added safety.
With hydraulic disc brakes, the Generation e1.1 delivers reliable stopping power, allowing you to ride with confidence. The SR Suntour suspension fork absorbs bumps, ensuring a comfortable and controlled ride.
The integrated rear rack increases the bike's cargo capacity, accommodating a variety of bike bags or even a kid carrier (not included). The kickstand is easy to use and provides stable support when parking.
The Co-op Cycles Generation e1.1 has been tested to achieve an average range of 30-40 miles, depending on various factors. To maximize your range, it is recommended to use lower pedal-assist modes more frequently and reserve higher modes for hills.
The bike has a weight limit of 300 lbs., which includes the rider, gear carried on the bike, and gear carried on the rider's body.
How we picked the best moped electric bikes
We employed a rigorous selection process to identify the best moped electric bikes available. Here's an overview of how we conducted our evaluation:
Extensive Research: We conducted thorough research to identify the most popular and highly regarded moped-style electric bikes on the market. This involved studying customer reviews, expert opinions, and industry recommendations to gain comprehensive insights.
Performance Assessment: We evaluated the performance aspects of each bike, including motor power, torque, top speed, and range. Our focus was on selecting bikes with powerful motors, impressive torque, and long-lasting batteries to ensure exceptional performance and extended riding capabilities.
Feature Analysis: We carefully examined the features offered by each moped electric bike. This included assessing the presence of pedal-assist modes, throttle control, suspension systems, braking mechanisms, lighting systems, and additional accessories such as racks, fenders, and mirrors. Bikes with a comprehensive set of features that enhanced safety, convenience, and comfort were given higher consideration.
Build Quality and Durability: We scrutinized the build quality, frame materials, and overall durability of the bikes. Our aim was to select moped electric bikes constructed from robust materials capable of withstanding various terrains and weather conditions, ensuring longevity and reliability.
Safety Considerations: Safety features were a crucial aspect of our evaluation. We prioritized bikes equipped with reliable braking systems, integrated lights, reflectors, and other safety enhancements to ensure rider well-being and increased visibility on the road.
User Feedback and Experience: We took into account user experiences and feedback to gauge overall satisfaction levels and identify any potential issues or limitations reported by owners. This provided valuable insights into real-world usage scenarios and helped shape our understanding of how each moped electric bike performs in practical situations.
Value Assessment: We considered the overall value for money provided by each bike, taking into account the features, performance, build quality, and price. Our aim was to select moped electric bikes that offered a balance between affordability and quality.
By rigorously evaluating these factors, we were able to narrow down the options and determine the best moped electric bikes available. Our objective was to identify bikes that deliver an exceptional riding experience, combining style, performance, durability, and value for money.
Some FAQs
What Makes A "Moped-Style" E-Bike "Moped-Style"?
A "moped-style" e-bike typically refers to an electric bike that incorporates design elements and features inspired by traditional mopeds. These features may include a step-through frame design, motorcycle-style handlebars, throttle control for motorized propulsion, pedal-assist functionality, and higher top speeds compared to regular e-bikes. The term "moped-style" is used to differentiate these e-bikes from standard electric bicycles and highlight their resemblance to mopeds in terms of aesthetics and functionality.
Are eBikes considered mopeds?
No, eBikes are not considered electric mopeds. While both eBikes and mopeds are forms of powered transportation, they are classified differently based on their specifications and legal requirements. eBikes, or electric bicycles, typically have lower power outputs, limited top speeds, and are designed to be primarily powered by pedaling with optional electric assistance. They are classified as bicycles in most jurisdictions and are subject to specific regulations regarding speed limits, power limits, and where they can be ridden. On the other hand, mopeds are motorized vehicles with higher power outputs, higher top speeds, and often require a license, registration, and adherence to moped-specific regulations, including helmet requirements and specific road access.
Should I get an eBike or a moped?
Choosing between an eBike and a moped depends on your specific needs, preferences, and the intended use of the vehicle. Here are some factors to consider:
Speed and Power: Mopeds generally have higher top speeds and more powerful motors, making them suitable for longer distances and faster travel. If you require higher speeds or plan to use the vehicle for longer commutes, a moped might be a better choice. However, if you prefer moderate speeds and don't need excessive power, an eBike may be sufficient.
Licensing and Registration: Mopeds often require licensing, registration, and insurance, similar to motorcycles or automobiles, depending on your jurisdiction. This process involves additional costs and legal requirements. In contrast, eBikes are typically classified as bicycles and don't require licensing or registration in most places, which can make them more accessible and cost-effective.
Cost: Mopeds generally have higher upfront costs due to their more powerful motors, additional features, and the need for licensing and registration. Additionally, they may have higher maintenance and fuel costs. eBikes, on the other hand, can vary in price but are generally more affordable upfront and have lower operating costs.
Pedaling vs. Throttle: eBikes often feature both pedal-assist and throttle modes, allowing you to choose between actively pedaling with electric assistance or using the throttle for motorized propulsion. This versatility provides the option for exercise or effortless riding. Mopeds typically rely solely on throttle control for motorized propulsion.
Environmental Impact: eBikes are more environmentally friendly compared to mopeds, as they produce zero emissions during operation. They contribute to reduced carbon footprint and improved air quality. If you prioritize eco-friendliness, an eBike is a greener option.
Infrastructure and Accessibility: eBikes can generally use existing bike lanes, paths, and trails, providing easier access to urban areas and reducing congestion. Mopeds may have more restrictions on where they can be ridden, depending on local regulations and road access.
Ultimately, the decision between an eBike and a moped depends on your specific requirements, budget, desired speed, and legal considerations. Assessing your needs and weighing the factors mentioned above will help you make an informed decision that suits your lifestyle and preferences.